Beschrijving
Runebound Complete Collection Bundle:
Deze bundel omvat het basisspel Runebound 3rd Edition evenals alle uitbreidingen aan een voordelige prijs:
Runebound: The Gilded Blade
Runebound: The Mountains Rise
Runebound: Fall of the Darkstar
Runebound: Caught in a Web
Het gebruik van kortingscodes is uitgeschakeld voor gebundelde producten.
Runebound 3rd Edition:
Welcome to Terrinoth, adventurer! Runebound is a strategy board game of heroic deeds and high adventure that invites two to four players to brave impossible dangers and experience the thrill of exploration in the fantasy realm of Terrinoth. In every game, you tell an epic tale of your hero's path from humble beginnings as you fight to defeat an ancient evil, arisen from Terrinoth's troubled past to plague its future.
In every game of Runebound, you must race against your rival heroes to increase your power and become the hero to save Terrinoth. Adventures are around every bend in the road and behind every hilltop in Terrinoth. You can slay monsters, explore the wild fastnesses, or interact with the denizens of Terrinoth in tense social encounters. Whatever quests you undertake, you must never lose sight of your goal – to destroy the great threat leveled against Terrinoth before another hero can steal your glory. 
Tell Your Own Tale
In Runebound, you enter the realm of Terrinoth, a fantasy world first created by the original edition ofRunebound. Since then, we've invited players to different parts of Terrinoth through Descent: Journeys in the Dark, BattleLore Second Edition, Rune Age, and Runewars. Now, you can return to the realm with the new version of Runebound, a reimagining of the classic adventure game that first introduced you to Terrinoth.
During the game, you play one of six powerful heroes, roaming throughout the realm and taking what adventures you find. These adventures are represented on the game board as adventure gems in three distinct colors. Each color represents a different type of adventure: combat, exploration, or social. You may battle Beastmen in the forests, seek arcane wisdom among lost ruins and forgotten forests, or attempt to outwit a con artist at her own game. You can focus on a certain kind of adventure or divide your attention among multiple types, but ultimately, you decide which adventures you embark upon, which gives every game of Runebound fresh replayability.
Of course, you won't find most adventures in the hearts of Terrinoth's cities. To find true adventure, you'll need to travel out into the wilds. Movement in Runebound is governed by terrain dice. Players roll a number of dice equal to their speed, and spend the results to move into hexes with matching terrain. Alternatively, your hero can move along a road by spending any terrain results. When speed is required, you'll be forced to choose between easy travel along the roads or a cross-country shortcut that may become a delay if the terrain dice don't provide the results you need.
If you challenge your enemies to battle, you'll engage in fast, tactical combat with the innovative combat token system. Heroes have a number of starting combat tokens and gain more from special weapons or items. Most monsters share the same combat icons, but powerful nemeses have unique combat tokens. When a round of battle begins, both combatants take all of their combat tokens in hand and cast them like dice or flip them like coins. Then, you and your opponent alternate spending combat tokens to deal physical and magical damage, shield incoming damage, flip combat tokens, or stack your tokens to increase their power.
During combat, you'll also decide how you wish to spend your surges. Every hero and monster features a number of powerful surge abilities – special feats of bravery or strength in arms that you can trigger during combat by spending surges from your combat tokens. Even as you choose how and when to spend your combat tokens, you'll need to consider exactly which surge abilities you want to trigger, making combat inRunebound an intensely tactical contest of wits.
Stand Firm Against the Darkness
The realm of Terrinoth is filled with adventures – challenges to overcome and fascinating people and locales to visit. But all is not well. Ancient evil from Terrinoth's dark past is awakening once more, and it threatens to drown the realm in a new tide of darkness. Two unique scenarios in Runebound pit you and the other heroes against the servants of evil.
Margath the Dragonlord, long presumed dead, has returned to Terrinoth to destroy all civilization in a blistering inferno. The necromancer, Vorakesh, has proclaimed himself the Corpse King and raises shambling hordes of undead to do his bidding. In the two scenarios included in Runebound, you'll take on one of these foes and attempt to stop him before he can destroy Terrinoth.
In addition to the standard adventure cards that represent the encounters you may find at any time throughout Terrinoth, each scenario offers its own unique adventure cards to bring the influence of Margath or Vorakesh even closer to you. If you're battling the Dragonlord, you'll face Great Dragons and Dreadbringers, search for ancient dragonlore in the lost places of Terrinoth, and confront the cults that thirst for the return of Margath. When you test your strength against the Corpse King, however, you'll confront hordes of undead zombies, rally your living companions to aid your cause, or explore a city of the dead in Blackwing Swamp. Alongside new adventure cards, each scenario offers a deck of story cards that provide additional quests that advance the plot and bring you closer to defeating your nemesis. This combination of adventure cards and story cards makes a scenario different every time you play.
Of course, it won't do much good to slay dragons and zombies if you cannot defeat their dark master. Once you feel your hero has gained sufficient strength and skill, you may venture into the heart of darkness to confront Margath or Vorakesh in a fight to the death. The first player to defeat Margath or Vorakesh becomes the savior of Terrinoth and wins the game, but if a player loses this final fight, he is out of the game. The heroes must not delay too long, however. If too much time passes before Margath or Vorakesh are defeated, they accomplish their dark goals and conquer Terrinoth, forcing all heroes to lose the game!
Unlimited Customizability
When the game of Runebound begins, your hero is nowhere near strong enough to defeat Margath or Vorakesh in pitched battle. Before you can confront the nemesis and win the game, you must enhance your hero's prowess by learning new skills and acquiring powerful assets. As you gain power, these skills and assets give you the chance to customize your hero towards whatever playstyle you prefer. You may train yourself to be a powerful paladin, armed with the best armor and weapons that money can buy. You may become a mage, bristling with spells and magical equipment. You may even focus on your agility, dodging your opponent's attacks and striking back when he least expects it. With over one-hundred skills and assets, the options are limitless and your hero will feel different every time you play.
You can gain new skills through diligent training and by spending the trophies that you gain from completing adventures. Skills are divided into three types: body, mind, and spirit. These types correspond to your hero's attributes – if your hero is strong of mind, you can have more mind skills at one time. Skill cards are useful for more than just increasing your own power though. Frequently in your adventures, you'll need to exert yourself to accomplish your goals. Exerting always requires you to discard a skill card, so maintaining a hand of skill cards through training is crucial to your continued efforts.
Alongside skills, you can improve and customize your hero by purchasing assets from the four Free Cities in this region of Terrinoth. Each of the cities has a market where you can spend your gold on new weapons, clothing, and equipment that grant you new abilities and combat tokens. Those specializing in magic can find books of spells and a spellcaster's robes, while fighters will find powerful blades, armor, and even more exotic items. You may also acquire goods in the Free Cities. These goods could be artifacts for a shrine or materiel for a stronghold, but no matter its exact nature, people will pay you well if you can carry their goods to the appropriate location.
The Adventure Begins
Evil awakens in Terrinoth once more, threatening to pull a shroud of darkness over the realm. Only you and few other heroes have a chance of stopping this impending doom. Will you become the savior of Terrinoth, or will your name fade away with the other heroes who came too late?
Decide your fate and the fate of Terrinoth in Runebound!
Runebound Unbreakable Bonds:
The heroes of Terrinoth are known to live a solitary existence, favoring uninhibited adventure over the companionship offered by a team. But as dangers grow across the realm, defenders will have to band together to beat back the impossible odds that face them. The safety of the Free Cities must outweigh old rivalries, but setting their differences aside may prove to be the most difficult task the adventurers have ever attempted.
Fantasy Flight Games is proud to announce that the Unbreakable Bonds expansion for Runebound Third Edition is now available! With new heroes, scenarios, and forms of gameplay, as well as a wide variety of new asset and skill cards, this expansion offers players hours of enhanced gameplay to unite and pursue glory!
Unlikely Partnership
Unbreakable Bonds unites two new heroes of the Runebound universe. The famous elven warrior Eliam is renowned for the lightning speed of his twin blades and the cruel joy he takes in destroying his enemies. But despite his fame, the bold adventurer must constantly seek high-paying quests to fund his lavish lifestyle. Meanwhile Tatianna, the master huntress, seeks fortune not for herself, but to ensure the survival of her tribe. These unlikely allies must come together to face adversaries more powerful than any they have encountered.
Forming a band offers adventurers a unique set of advantages new to Runebound gameplay. Once heroes have formed a band by moving into the same space, they move as a single group, allowing them to traverse greater distances with each hero moving the entire party during their turn. The group dynamic also gives players the opportunity to learn Party Skills to strengthen them against the enemies they may face.
However, these skills are only available to those who fight as a part of the group. If any hero abandons the party, they forfeit their access to the Party Skills, as any personal pursuit of glory must always come with a price. But if a player chooses to return to the party, and their fellow party members allow them back in, they can use the Party Skills without having to relearn them.
A Dangerous World
Unbreakable Bonds introduces both cooperative and solo gameplay to three player-favorite scenarios: The Corpse King, Caught in a Web, and The Ascendance of Margath, and offers two brand new adventures unique to the Unbreakable Bonds expansion.
In The Red Death, the towns of Terrinoth are ravaged by a strange fever that turns the skin and eyes of its victims a terrifying red while also covering them with painful boils. To put a stop to this plague, heroes must gather ingredients and find a cure before more innocent lives are lost. The one who finds a cure will undoubtedly be lavished with fame and fortune from the grateful people, but it may be worthwhile to share the glory with another to guarantee the cure is found before Death catches Terrinoth's heroes in its clutches.
Evil emerges from the Ru Darklands in Locust Swarm. Uthuk Y'llan warbands are spreading throughout the realm, attacking any shrine, village, or city that they can defeat without a fight. Adventurers will battle an army of Mystics, Tricksters, Warriors, and Savages armed with only their small cache of weapons, their cunning, and just a little luck. With the odds so greatly stacked against them, heroes may be forced to forget their competitive natures and work together, if only temporarily. To save the realm, the heroes of Runebound must find a way to push back the swarm and end the Locust Swarm's demonic reign.
Gather Your Party
The times grow dark and Terrinoth needs heroes. Take up your sword, strap on your walking boots, and band together to form Unbreakable Bonds!
Runebound: The Mountains Rise
In the wilds of Terrinoth, strange beasts have begun to gather. Innocent townsfolk hurry home at night, barring their doors behind them, as bloodthirsty, savage creatures venture farther and farther from their lairs in search of their next meal. The realm has called upon its greatest heroes to venture into the hills and mountains to confront this threat. Only the most stalwart will return with Runebound (Third Edition): The Mountains Rise – Adventure Pack!
Like other Adventure Packs, The Mountains Rise offers new cards that can be incorporated into any existing scenario to dramatically change the flavor and feel. Fifteen new adventure cards (five per deck) introduce new enemies, events, and quests while twenty new asset cards and ten new skill cards give you dozens of new ways to customize your hero.
Many of these new assets come with new combat tokens, some of which introduce new combat symbols to the game — ensuring that your Runebound battles will never be the same. Finally, you'll gain an entirely new hero: Nanok of the Blade, a warrior who eschews armor in favor of the pure thrill of battle.
Runebound: The Gilded Blade
Once a year, the merchants and civilians of Terrinoth come together in a time of celebration and commerce. The most talented craftsmen and the slickest charlatans alike operate under the sign of the Gilded Blade. As new wonders are unveiled and pickpockets work the crowds, even a noble hero can find much to interest him at this gathering.
The Gilded Blade Adventure Pack expands the world of Terrinoth in every game of Runebound with new sets of skill cards and asset cards that can increase your options for any scenario. New goods like Contraband vary in their return based on how good you are at exploring. Meanwhile, you could claim a skill card like Superiority Complex , which grants you a free trophy whenever another hero is defeated! These assets and skills can be swapped for other sets in your asset or skill decks, giving you the chance to customize your hero more than ever before.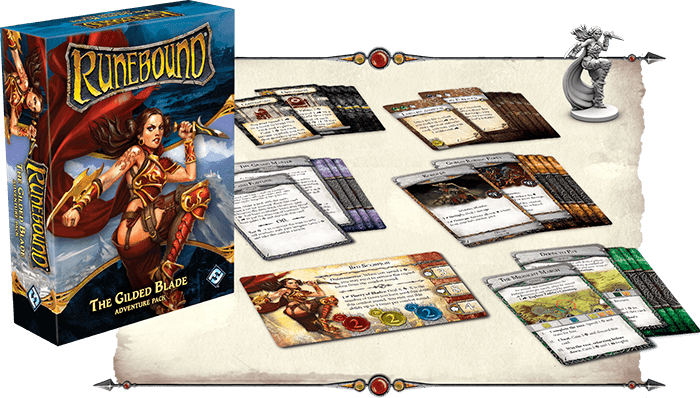 Runebound Caught in a Web:
The sorceress Ariad once more schemes to conquer Terrinoth with the Caught in a Web Scenario Pack for Runebound. Now, she commands her arachnid minions to spread insidiously throughout the realm, spinning webs, injecting venom, and preparing for their mistress to cover the world in darkness. Throughout the course of the brand-new scenario introduced in this expansion, new story cards and adventure cards bring new dangers to your quest to save Terrinoth.
Along the way, you'll find yourself face-to-face with new and hideous monsters or terrifying perils. You may battle an Arachyura, track a nest of spiders to the Smokeblue Hills, or delve deep into tunnels that riddle the ground beneath Terrinoth.
Fortunately, a new hero also arrives to save Terrinoth with this Scenario Pack: Jonas the Kind. With the help of this new hero, you and your friends can become the greatest heroes that the realm has ever seen.
Runebound Fall of the Darkstar:
The coming of the dark star has long been foretold among the dark prophets of Terrinoth. When it falls, they say, an age of darkness will overtake the world, and its coming shall be heralded by a rain of dark shards that corrupt every stout and honorable soul. This dark and corrupted Terrinoth becomes the focus of your struggle to survive with the Fall of the Dark Star Scenario Pack. 
Like other Scenario Packs, Fall of the Dark Star introduces an entirely new scenario to your games of Runebound, offering a substantially different experience with thirty new adventure cards: ten for each of the three archetypes.
You may battle a Starborn Specter or travel to the Howling Valley in search of a fallen dark shard, but no matter where you go a new deck of story cards continues to raise the stakes as you search for the dark shards that fall from the heavens. Finally, you'll find an entirely new hero, Zyla, a being from the Aenlong realm whose otherworldly powers have led her to become a hero of Terrinoth.