Beschrijving
Stuffed Fables + Mice & Mystics Bundle:
Deze bundel omvat Stuffed Fables evenals Mice & Mystics aan een voordelige prijs. Het gebruik van kortingscodes is uitgeschakeld voor gebundelde producten.
Stuffed Fables:
Stuffed Fables is an unusual adventure game in which players take on the roles of brave stuffies seeking to save the child they love from a scheming, evil mastermind. Make daring melee attacks, leap across conveyor belts, or even steer a racing wagon down a peril-filled hill. The game delivers a thrilling narrative driven by player choices.
Players explore a world of wonder and danger, unlocking curious discoveries. The chapters of Stuffed Fables explore the many milestones of a child's life, creating a memorable tale ideal for families, as well as groups of adults who haven't forgotten their childlike sense of wonder.
Stuffed Fables is the first "AdventureBook Game", a new product line from Plaid Hat Games in which all of the action takes place in the unique storybook — a book that acts as your rules reference, story guide, and game board, all in one! Each adventure in the game takes place over several pages of the immersive AdventureBook. The book opens flat onto the table to reveal a colorful map or other illustration central to playing the game, with choices, story, and special rules on the opposite page.
On their turn, a player draws five dice from the bag. The colors of the dice drawn determine the types of actions and options available to the player. White dice can re-stuff stuffies injured in battle. Red dice perform melee attacks while green dice perform ranged attacks. Yellow dice search while blue dice are used for special actions and purple dice can be used as any color.
Most dice can always find a strategic use, including moving, using items, or contributing to group tasks. Players can store dice for later, combine dice for stronger actions, or use them one-at-a-time for multiple activations. As turns go by, black dice are also drawn, and after enough appear, minions emerge or attack, and the dice bag is reset!
Players can encourage each other by sharing dice or their precious stuffing. In addition to fighting minions, each page of the storybook offers numerous points of interest, charming characters to interact or trade with, as well as many unusual challenges. And each page is but one chapter that folds into a branching, overarching story with a multitude of items and a special discovery deck full of surprises.
Mice and Mystics:
In Mice and Mystics adventure awaits!
Living in the walls
Lurk things that aren't nice,
That nobody knows of
Except for the mice.
In Mice and Mystics players take on the roles of those still loyal to the king – but to escape the clutches of Vanestra, they have been turned into mice! Play as cunning field mice who must race through a castle now twenty times larger than before.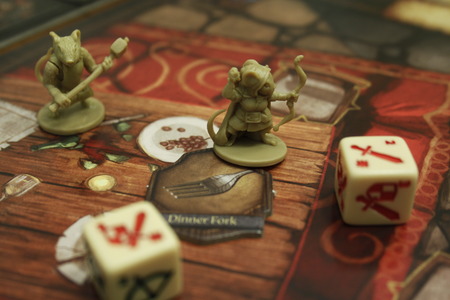 The castle would be a dangerous place with Vanestra's minions in control, but now countless other terrors also await heroes who are but the size of figs. Play as nimble Prince Colin and fence your way past your foes, or try Nez Bellows, the burly smith.
Confound your foes as the wizened old mouse Maginos, or protect your companions as Tilda, the castle's former healer. Every player will have a vital role in the quest to warn the king, and it will take very careful planning to find Vanestra's weakness and defeat her.
Mice and Mystics is a cooperative adventure game in which the players work together to save an imperiled kingdom. They will face countless adversaries such as rats, cockroaches, and spiders, and of course the greatest of all horrors: the castle's housecat, Brodie.
Mice and Mystics is a boldly innovative game that thrusts players into an ever-changing, interactive environment, and features a rich storyline that the players help create as they play the game. The Cheese System allows players to hoard the crumbs of precious cheese they find on their journey; and use it to bolster their mice with grandiose new abilities and overcome seemingly insurmountable odds.
Mice and Mystics will provide any group of friends with an unforgettable adventure. They will be talking about it for years to come. Assuming they can all squeak by…
Awards & Honors:
2014 Lys Passioné Finalist
2014 As d'Or – Jeu de l'Année Nominee
2013 UK Games Expo Best Boardgame Winner
2013 UK Games Expo Best Boardgame Nominee
2013 Golden Geek Best Thematic Board Game Nominee
2013 Golden Geek Best Family Board Game Nominee
2013 Golden Geek Best Board Game Artwork/Presentation Winner
2013 Golden Geek Best Board Game Artwork/Presentation Nominee